Quick and complete guide for sales teams: What to do, what not to do, plus sales coaching activities you can use right now
Jun 28th, 2023
Why sales coaching matters — a few key points
Sales coaching activities add an interactive element to learning and are an excellent way to ensure knowledge retention and evaluate whether reps can "play back" what they learned in their training. 
Without repetition and recitation sales training often goes in one ear and out the other. Ever heard of the Ebbinghaus Forgetting Curve? It "shows how information is lost over time when there is no attempt to retain it."
Skill and team development
Sales coaching also builds communal, cooperative culture through peer learning (especially in remote and/or distributed sales forces) and contributes to their collective knowledge which raises the quality and ensures consistency across the board.
Increases sales capacity and productivity 
Sales coaching is integral to increasing your sales capacity (what your sales team is actually capable of achieving within a given period) and making quota consistently despite fluctuating headcount or market conditions.
At the end of the day sales coaching delivers ROI. 
The knowledge retention, continuous skill development, and internal communication that coaching provides directly impacts your bottom line. The Center for Sales Strategy found that CEOs can help their sales team bring in more revenue by implementing coaching. 
You'll find the do's, do nots, customer examples, and actionable tools and templates for implementing and improving sales coaching in this guide.
Problems with sales coaching aka what NOT to do
1. Short-term thinking
Sales coaching is not a one and done process — it has to be continuous to be effective. 
Too many companies still have limited and short-term thinking when it comes to sales coaching. 
In order for coaching to be successful,  you need to think of coaching as a long term initiative. 
Reps who are coached are more confident and effective in their conversations — and our research shows buyers are 13x more likely to buy from confident sounding sellers.
A strong coaching culture allows a rep to practice their message in a safe environment and to receive feedback that is objective and helpful to their development.
The key is to look at coaching as an ongoing process. Instead some companies use coaching for onboarding and then discontinue it after the 90-day period or do one-off coaching challenges for specific objectives like a major product launch. 
The challenges in the latter category are also a symptom of the following problem.
2. Singular focus on task oriented coaching
When companies only coach for specific tasks or initiatives when they arise, it's called task-oriented coaching — which is just a band aid over a larger issue. 
For coaching to be effective and have long-term benefits for both the organization and the seller, coaching needs to be skill oriented as opposed to task oriented.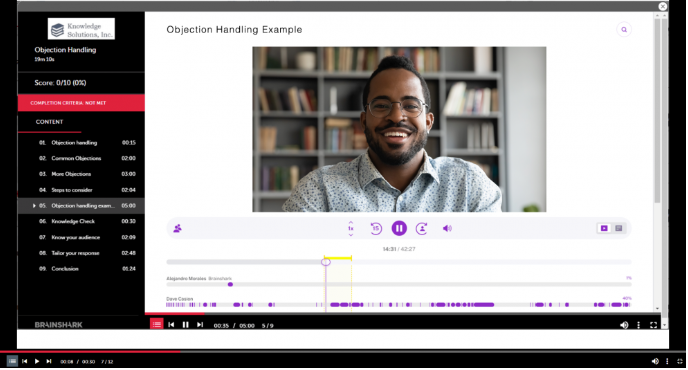 Some sales skills to continuously coach for are:
Business Acumen

Storytelling

Active Listening

Objection Handling

Negotiation Skills

Buyer Research

Judgment
Find more in 17 Sales Skills All Reps Need.
3. Using "coaching" time for deal forecasting
There tends to be confusion around what "sales coaching" really means. 
Many times, sales managers use 1:1s or "coaching sessions"  for deal forecasting and forgo skill development altogether.
You need to carve out separate time for skill coaching as opposed to only focusing on deals for the quarter. 
4. Uneducated coaches and unhelpful feedback
Oftentimes, managers are not educated on what the outcome of coaching activities should be. 
As a result, you get inconsistency in the responses across teams. Some managers take the easy route and answer with "great job" or "needs improvement" while others take too long to give feedback or give overly subjective feedback that is more critical than constructive. Both of these types of responses give little guidance to the sales rep — in fact it probably just makes them more frustrated with the exercise.
But there are ways to help managers use their coaching time more effectively, through "coaching the coaches" and automated AI feedback.
Learn how to Create stronger coaches with Coach Insights for Scorecards. 
Customer example: One of our customers determined that reviewers should not spend more than one hour reviewing a coaching activity for their entire team. Then, based on the average number of salespeople per team, they calculated what the max submission duration should be to keep it under the one-hour timeframe for reviews.
How to coach well — sales coaching best practices for coaches, enablement teams, and sales managers
1. Make it approachable
Start with a simple, non-scored question that anyone can answer to get teams comfortable with the tool and make it feel less intimidating. It can be a fun activity such as asking them to describe their favorite restaurant or movie.
Another possibility is to start with a work-related, non-scored activity. Some examples include:
What was the best sales advice you have ever received?

What was a sales mistake you've made, and what did you do to correct it?

Think of a transformative moment in your career or life. What happened and how did it impact you?
2. Make it competitive
A contest is an excellent way to get teams engaged and foster friendly competition, especially for initial coaching activity launches. Creating a bracket challenge around a theme like the NCAA's March Madness is a common example.
Customer example:  One company created a team competition using American Idol as the theme, with teams going head-to-head in three elimination rounds using their strongest team submission.
The winning team received a $500 cash prize toward a team outing and bragging rights as the first "Idol" winner. As an incentive for engagement, teams that did not advance past the first round – but had 100%-member participation – were automatically allowed to compete in a consolation bracket for a $200 cash prize toward a team outing.
3. Introduce it early and reiterate often 
To ingrain coaching into your sales culture you need to implement it from day one in a way that feels organic, even if it is a requirement.
For new hires this is easy. Include coaching activities in your onboarding curriculum, starting with an "About me" video followed by practice delivering the corporate pitch (get this prompt below). To prepare, the participants review speaker notes, some customer success stories, and an example from their manager.
Introducing coaching during onboarding sets the precedent for your reps' tenure at your company.
If you're introducing a new coaching tool or program to your more seasoned reps, making it regular practice will take a bit more enforcing. 
To make it regular practice for your vets, create custom coaching activities that align with their quarterly objectives. You can also leverage your "old pros" and high performers as part of peer coaching by having them complete a coaching challenge to set an example and standard for their newer teammates.
We cover peer learning extensively in this article: Peer learning: Why it's so important for remote sales teams and how enablement leaders can foster it
4. Make it mandatory for managers
Driving a culture of coaching necessitates the active and continual engagement of the managers. Sales reps will respond much better when they see their own managers engaged in the process. 
Customer example: For one Brainshark customer, each coaching activity is broken out into two rounds, with the managers taking the challenge in the first round.
Afterwards, the activity is launched to the participants and includes their own manager's video submission from the first round to view as a best practice.
Customer example: To ensure buy-in from the entire sales leadership team, another organization launched its first coaching activity to managers only, including an attached video of the head of sales explaining the importance of coaching to meeting the company's goals. Each manager had to respond (in 60 seconds or less) why they believe video-based coaching is valuable and provide a sample use case of an activity for their team.
5. Make it part of the workflow 
Simply mandating your teams participate in coaching activities isn't enough. Even if it's "mandatory" it will be neglected and forgotten if it isn't made part of your reps' and managers' regular workflow. 
That means making coaching tools available when and where they work. 
We encourage our customers and in-house sellers to use the mobile app to submit their videos. This makes the activity less formal (and more approachable) for reps, especially for those in the field or traveling.
You should also develop a schedule. Establishing a cadence gets reps in the habit of responding, making it a part of the learning culture of your organization.
It should be a regular activity with a deadline — whether regular means daily, weekly, or monthly depends on your team and what works best for them.
6. Make it shareable 
Everyone appreciates recognition for their efforts and results — especially social and competition-driven people like sales reps. And if reps see their teammates getting recognized for coaching achievements, they will be motivated to participate too.
Customer example: For one customer, a coaching activity was launched prior to their annual Sales Kickoff with over 300 submissions. The top 20 winners were recognized at the event with a special designation on their lanyards and their submissions were shown in a "Learning Lounge" drop-in area as examples of "what good looks like." 
Afterwards, the winning videos were turned into Brainshark content as part of a library of best practices to share with the entire sales team.
But you could make it as simple as sharing results on social media or during company town halls. Get creative!
7. Make it rewarding
Incentives are a good way to encourage adoption, drive behavior change and reward participants. The rules and rewards can be as varied as any other sales incentive.
Customers have run individual and team competitions, with cash or prizes for the winning submissions. Coupling the incentive around a theme like March Madness or American Idol can make it more fun for the reps.
A useful tip for activities with rewards: if the sales team is particularly competitive, consider increasing the star rating (choose a rating scale from 2-10 stars) for more granular scoring criteria. This will result in fewer ties on the leaderboard.
And make sure your managers are aware of the grading criteria.
Encouraging adoption can also be achieved through a reward and accountability system. 
Customer example:  One customer ranks participants based on how often they practice, and publishes the rankings for all to see. For example, a Goldfish participant is not active, followed by Shrimp, Barracuda, Sting Ray and finally Shark for those most active participants.
8. Automate it and make it scalable
Sales managers know they need to coach. Finding the time to individually coach every team member is the problem.
But these days there are tons of AI-powered tools available to help sales teams scale sales coaching and learning programs. 
In action the workflow with AI-powered coaching would like something like this: 
Managers want to know if their sales reps are staying on message whether it be for the new corporate pitch, addressing a competitive challenge or positioning a new product. Brainshark (part of Bigtincan) will auto-score the video submissions based on the participant's ability to cover (or avoid) key topics in their response. 
The scoring also factors in speaking rate, use of filler words and comprehension level. Supplementing AI insights with manager feedback saves time and builds the consistency required to scale-out a coaching practice across the organization.
The beauty of automated feedback is that managers now have objective insights as to who knows the message and who is still struggling. They can use their limited time wisely by focusing on the people that really need the help.
Don't have Brainshark or other coaching software?
There are other mechanisms to help scale your coaching practice, such as the use of random sampling, which is particularly useful with large teams. 
For example, are you concerned that your team is not "audible ready" to handle a common question that comes up in discovery calls?
Say a VP of Sales is on a call where the reps mishandle a competitive positioning response. Is this an aberration or a cause for concern? Find out by launching a coaching activity to a randomly selected, small subset of participants to quickly get a baseline of performance and act as a plan moving forward for additional coaching and training.
Sales coaching activities and prompts you can use right now
1. Corporate Pitch — New Hire
Prompt: Delivering the [INSERT YOUR COMPANY NAME] company pitch is an essential part of demonstrating your understanding of the problems we solve, how we solve them, and mapping customer success stories to solidify our position.
Use the attached pitch deck and record yourself giving an introductory pitch to one of the accounts you will be working with. Review the speaker notes; while the highlighted points must be covered, everyone has their own style. Be sure to select one customer success story that matches with the account's goals.
Note: For this activity, attach the following: corporate pitch deck with speaker notes (required); customer success stories to choose from (optional); corporate pitch example from the manager (optional).
2. Peer coaching prompt for quick upskilling across the board
Prompt: Share a best practice or productivity hack that you are using that has helped you be more successful this year.
Note: Take the best responses and repurpose them in your sales coaching application for the rest of the sales team to access on-demand.
3. Upselling practice for continuous learning, new campaigns, and product releases
Your customer asks, "Is [INSERT NEW FEATURE/SOLUTION ] an add-on to my current agreement?"
How do you respond?
Note: Have your product marketers and/or product managers work with sales leadership to prepare messaging ahead of this challenge and then use great responses to build on it for sales-marketing alignment.
4. Discussing competitors for building brand and gaining customer trust
You've just explained to a potential client what [INSERT YOUR COMPANY NAME] does.
The person says, "Oh, is that like [INSERT COMPETITOR NAME]?"
How do you respond? (Be sure to respond professionally without bashing the competitor.)
Note: Speaking respectfully about competitors builds a positive buying experience for customers and reduces the risk of any negative "vibes" or impressions of your company. See also: What vibes help you sell? How AI-powered sales coaching improves your pitch.
5. Asking questions to identify pain points
If the prospect is comfortable maintaining status quo, what 3 discovery questions could
you ask to identify pain?
Note: Don't assume customers know all of their own pain points already. As a consultative selling, it's part of your job to help bring those to the surface to find the best solutions. Further reading: The cost of doing nothing — overcoming status quo bias in sales enablement
Get 14 more ready-to-use prompts, templates, and tools in the complete coaching toolkit below.
Get the complete sales coaching toolkit
These resources provide:
Strategies for building internal advocacy for sales coaching

Methods for educating your managers, coaches, and/or reviewers on proper coaching practices

Introductory sales coaching activities 

Incremental coaching challenges

Post-challenge review actions for coaches and manages

A challenge creation checklist
Get them here to share with your whole team and start building a continuous, positive, and impactful coaching program at your company.